It has been a long while, but I am excited to announce that Action Backers 2.0 is live in beta! It is better than ever, and I'm not just saying that. This post will be an in-depth look at the new Action Backers as well as the road taken to get here.
An unexpected journey
What a journey it has been. When I first started Action Backers, all the way back in 2018, I really didn't know what I wanted it to be. Mostly, I just wanted to give some reviews on various sportsbooks to help guide new bettors. As somebody who worked in the industry, I got to meet bettors from all walks of life, and really just wanted to give back to the community.
That was it, just a blog with a few articles about what I liked and didn't like about a handful of sportsbooks.
Oh, and a 3 episode podcast that about 12 people listened to 🙃.
While this was going on, I started learning how to build models based on data science, as well as what I had learned at my time working for the sportsbook. I started applying this to my NHL betting, and sharing my picks to twitter. As the season raged on, I saw a lot of success, and with that more and more people reached out asking for picks and to learn my process.
No touts allowed
I decided that if people were willing to pay me for my NHL picks, then I would oblige them. For $100/ month (yes, just for NHL picks. Now $99/month gets you access to the entire Pro plan at Action Backers) ... this meant that I would have to take things more seriously, and start documenting everything for members. No problem;. I was a spreadsheet wizard! Even though the lines I got might have been different for other people, or placed at different times, it was good enough...
After a few months of this, this didn't sit right with me. I had always had a strong sentiment against touting, and even though my picks were derived from data, I felt like it was a slippery slope to becoming "one of them".
Note: I mean no disrespect to anybody who chooses to solely sell picks based on their handicapping, or data analysis (it's still a part of my business model). I do believe it is a skill, but sadly the industry is so overrun with sheisters that it gets a black eye.
This is also when I started to focus more on the YouTube Channel, which is likely where most of us have interacted. This became a great outlet, and I had more and more suggestions for content/ questions and proved to be a great resource. I still wasn't sure what Action Backers was, or what it could be, but I thought making videos was fun and enjoyed interacting with everybody, so I kept on with it.
One major set back was seeing a video with over 100k views taken down with no recourse. I almost quit. I'm glad I didn't (even though I haven't made a video in over a year, I plan to start again ASAP. More on this later in the post).
A bad downswing
It was halloween 2020, I was driving home from work after one of the most profitable months of NHL betting I had ever had. Members were thrilled and our bank accounts brimming.
Then, November hit.
For whatever reason, regression to the mean, luck (or lack of) factor, as soon as the calendar turned, the profit graph went parabolic and I entered the worst 3-month downswing of my life. The worst part is I couldn't explain it, and members were justifiably getting worried. A few even started fading me, which proved to be a solid strategy. One thing that I do remember specifically about that stretch is about 34% of the bets went into overtime, and without exaggeration, I think we ended up losing 65+% of those bets. Those are numbers you just can't come back from.
Needless to say, something had to change. I was already not feeling great about just giving out picks with not a lot of context, and to top it off they were badly losing.
Thanks, Rudy.
Based on what was going on with the downswing, as well as increasing requests from YouTube goers and members alike to learn more about building models, I decided that I would oblige and create some content around those topics. I knew it would be a large undertaking and I wasn't really sure the best way to go about it... this was in January/February that I decided I wanted to tackle this.
... and then March of 2020 happened and sports stopped.
Because we were all locked down with no idea how long it would take for things to get back to "normal", I made a bet of a different type.
I decided that now was the perfect time to revamp the site and start offering a membership to not only get my model picks (I no longer give out picks, I offer something much better), but also learn the basics of sports betting and build your first model from scratch.
Creating the content took a long time. Hours of planning, researching, recording, editing, re-recording etc. and finally I had content that I knew would be useful because you all were asking for it.
At this point, we still didn't know what was going to happen with sports, save for a glimmer of hope when Korean Baseball started up, and then the Bundesliga.
I didn't want to miss the window, so I forewent building a new site, instead enlisting a few crappy plugins to get a rudementary membership site up on the bones of the existing blog. I knew I could do better, but I didn't have the time.
How can you not be romantic about baseball?
July 2020. Action Backers launched just in time for the abbreviated MLB season. And it was a smashing success. Members were learning lots and just as Nov-Feb of 2020 had been a horrible NHL stretch, July - Sept brought winner after glorious winner. But I still knew I wanted more for Action Backers.
After a year and a half of disappearing Slack chats, manually upgrading/downgrading members, messed up accounts, site glitches, I had had enough. I endeavoured to build Action Backers back up into what I had always wanted it to be.
Spoiler I still have more in mind for it, this is just the beginning
Too much on my plate?
At the same time that I started planning to rebuild Action Backers, I was fortunate enough to buy a house. But this house was going to be a labour of love. In fact, as I write this post, 18 months after getting the keys, it is still not finished, and I am sitting in my kitchen for only the second night. All of the renovations have been done by myself and my dad (really by him, I don't know what I'm doing...).
It's been a huge project but it's also been a lot of fun. But this is not a post about my house. My point is that while I decided to rebuild Action Backers, I also had another massive project on the go, so everything took much longer than expected.
First and foremost, I love to code and build web apps. So the building of the new site and web app was an incredibly rewarding process. I had a few starts, stops and re-writes along the way but as of Sunday, November 6 we are officially live with the new site.
Phew, this was a long read. If you made it this far, thank you. Also, if you made it this far, now I will actually show you what you can expect with the new site.
Welcome to Jurassic Park Action Backers
The old Action Backers revolved quite a bit around spreadsheets (I do love a spreadsheet). Models, bet tracking, bet calculators etc. all done in spreadsheet form. That's no fun.
So with AB2.0, I've built all of that stuff directly in-app. Yes, Pro members will still learn how to build models using spreadsheets, but all of the other stuff can be found directly in the member area.
For instance, here's a screenshot of the new dashboard: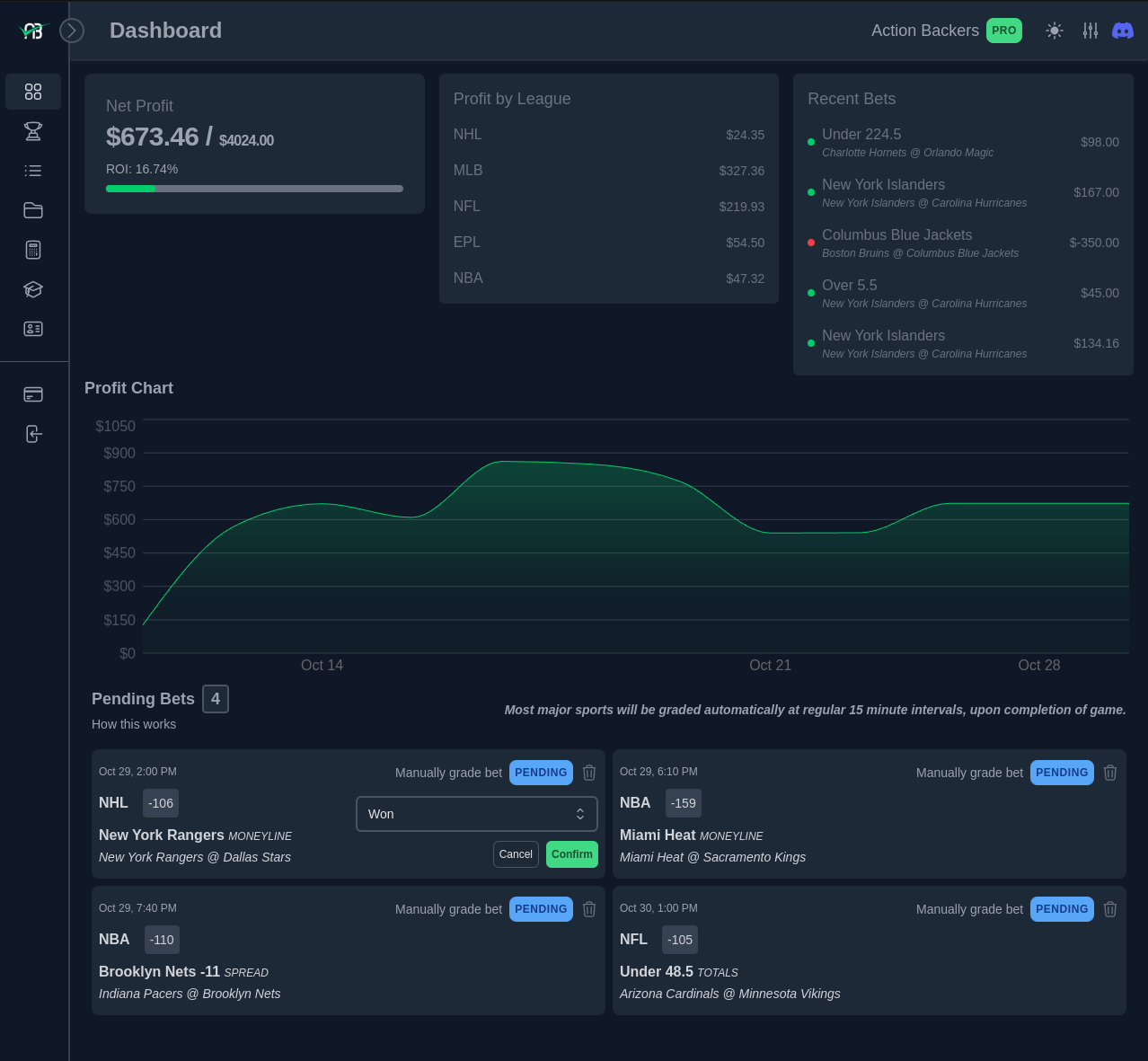 At a glance you can see an overview of your net profit and ROI, a breakdown of your profit by league and a snapshot of your recent bets.
The profit chart is another great visual tool for you to see your day-to-day swings.
Lastly, your pending bets. This might be my favourite feature in the entire platform, let me explain why.
In the past, if you want to track a bet you would add it to your spreadsheet (yes, I know there are other bet trackers out there, I didn't invent this idea), and when the game is over you would grade your bet to update whatever function you wrote to track your results.
Fun aside -> when I worked for the sportsbook, we didn't have auto-grading, we literally had to manually grade every single bet. It was extremely tedious but also very competitive and sort of fun?
If you use the in-app bet tracker, while you still have the option to manually grade your bet, you no longer have to. I've written an auto-grader to programatically grade your bets for you. This applies to most major sports. To see all currently eligble sports you can check out the FAQ.
Dark mode
That's it. If you want dark mode, we've got you covered. Or use light mode, it looks cool too.
All bets
We will keep all of your bets safe where you can access them any time in a nice table. Search, filter, all that good stuff. Also, if you want to export your bets to CSV, no problem. Right there for ya.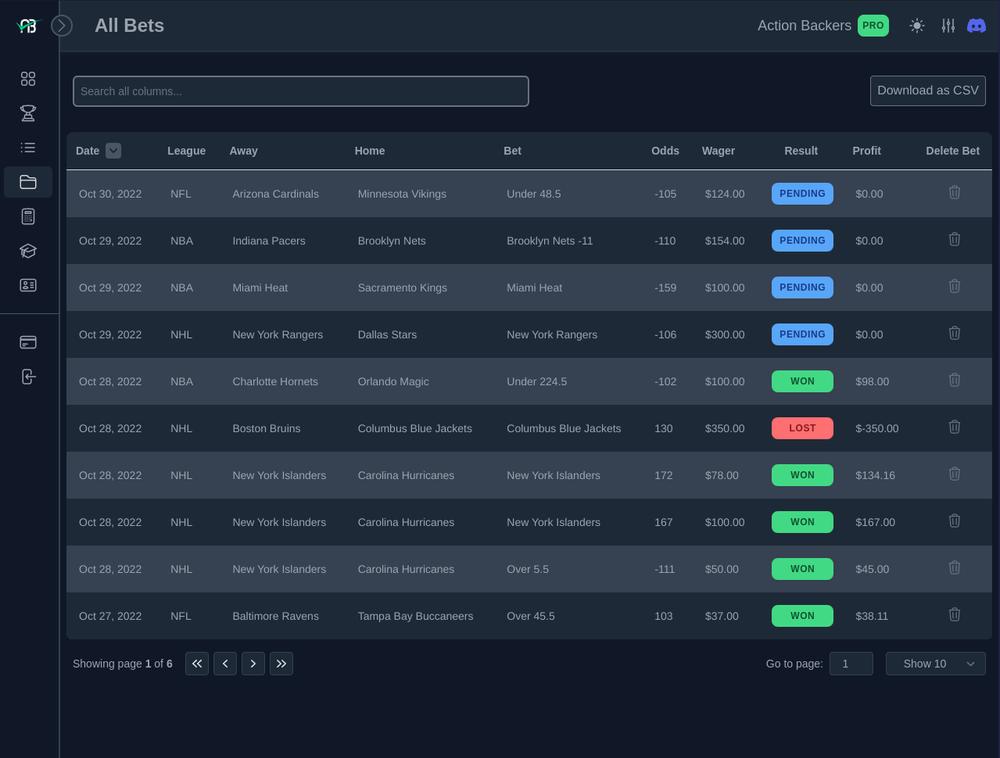 Tools and such
Odds converter, Kelly criterion calculator and Expected Value calculator all easily accessible. Nothing earth shattering here, just helpful to have.
We also have direct support for American or decimal odds.
Par for the course
Of course (lol), betting courses make up a large part of the appeal of Action Backers. Those haven't gone away. I've upgraded the video player for a better experience and more courses will be released in the coming months. All Starter and Pro members have access to all of our video courses.
The price is right
Pricing is something that I wanted to work on, and to be honest, I've kept the old pricing structure of $69/$99 month and the main difference being the models section. But I also understand that some folks don't have interest in building their own models (video courses), or my model outputs, so for $9/mo we are introducing the Lite plan which will allow users to track their bets in-app and see the odds feed, as well as join the Discord community. Speaking of...
Quit Slacking
We're moving away from Slack to Discord. 🚀
WAY better billing
So this is not something that really moves the needle until you realize how truly terrible some billing experiences can be. For this new iteration of Action Backers, we've partnered directly with (fancy way of saying we are using their stuff) Stripe for a seamless billing experience.
Now you will easily be able to:
Upgrade
Downgrade
Cancel directly in their secure portal. These things seem like no-brainers, but the old way that this was handled was attrocious and I am sorry for that.
Oh ya, now you get a 14-day free trial as well.
Finally...
The good stuff
Ok, here we go. This is the meat and potatoes of the new Action Backers. Now you can see odds for all major sports directly in-app, add them to your "betslip" and track the outcomes.
Currently, there is support for most major sportsbooks in North America, Europe, the United Kingdom and Australia. You can choose your "default" book, and those odds will be displayed first, but you also have the option to easily view other sportsbooks in your location.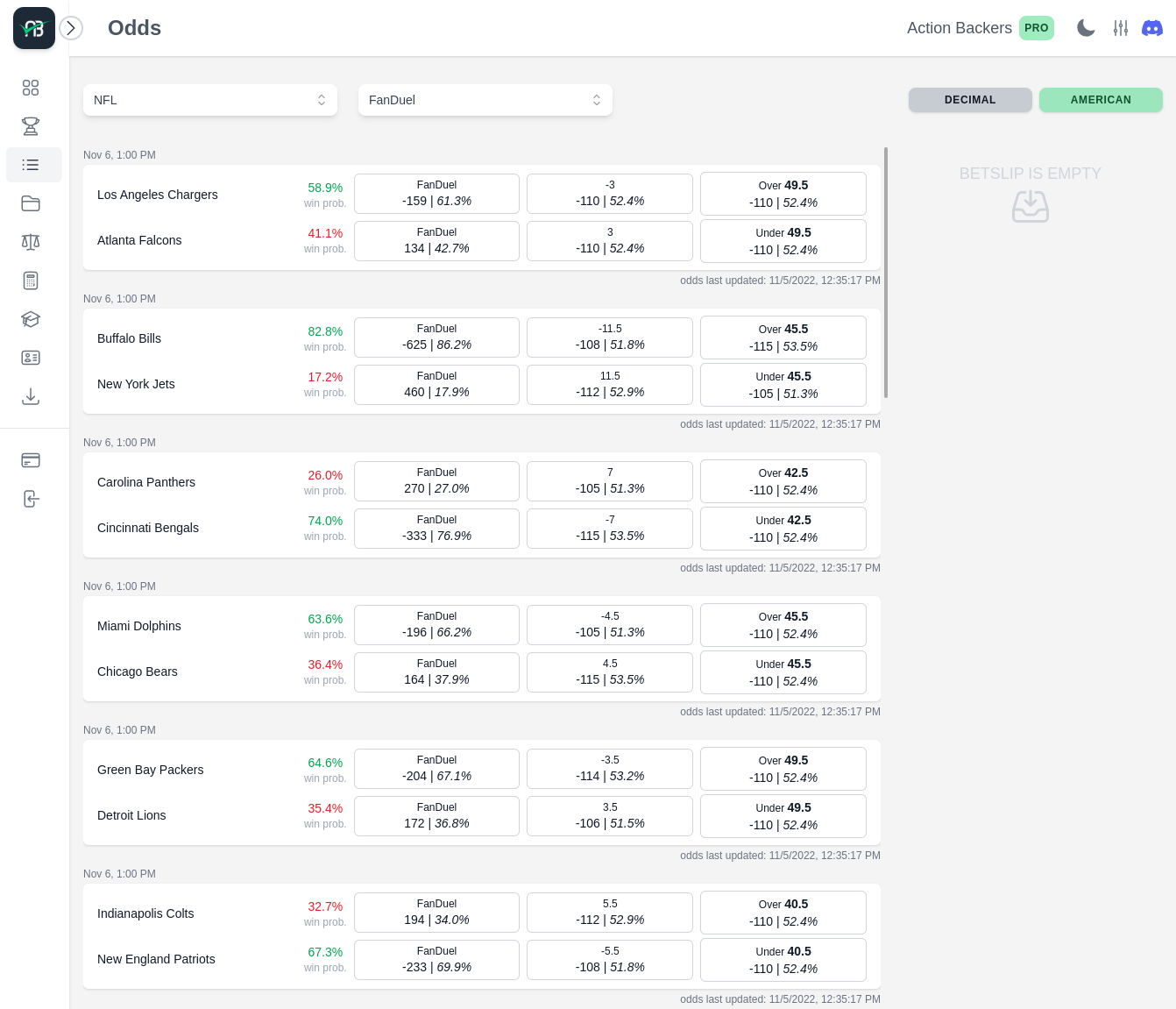 Odds are minimally delayed (to the second odds are really hard to get and very expensive, sorry), and you can easily update the odds directly on your betslip.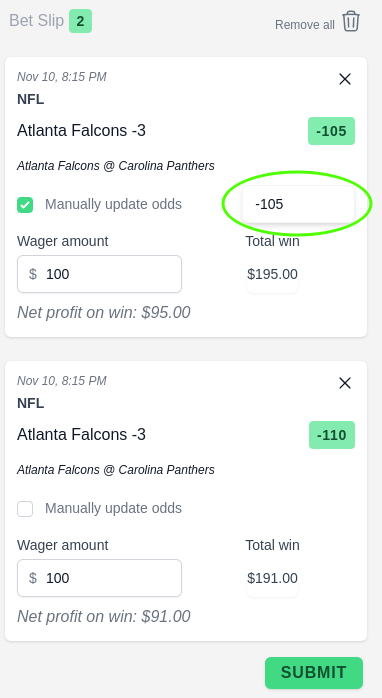 Currently, you can track moneylines, spreads and totals. I am looking into adding support for parlays and exotics such as teasers, 1h etc. but this won't be offered for a while.
One of the newest offerings is the odds comparisons section. It is still a major work in progress but the basic functionality works decently well.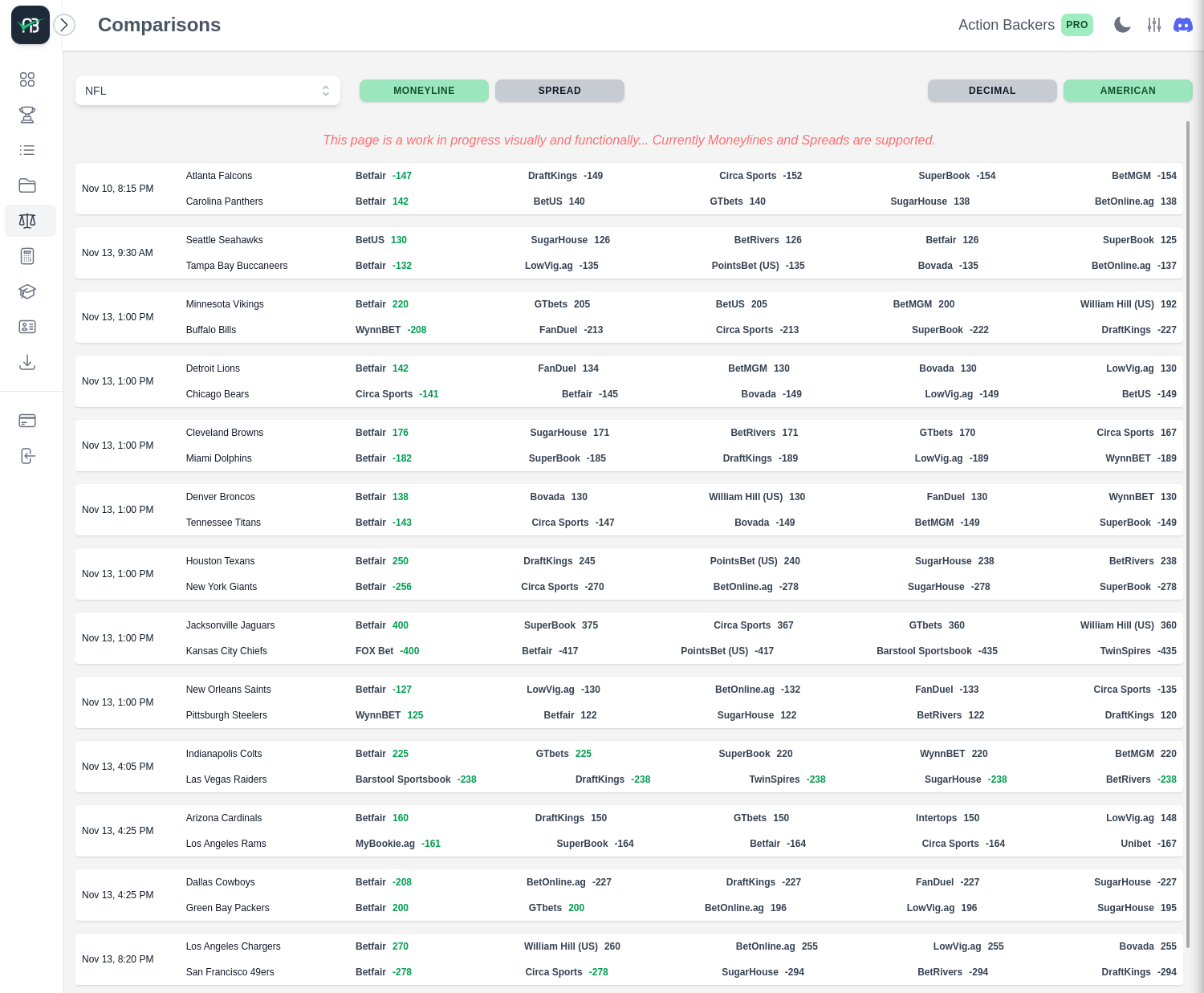 The gist of this tool is for a given sport, we will compare all odds and return the top 5 best odds for either side. The green highlight means best price, but I have included the top 5 so you can get a sense of the market, as well as factoring in that you may not have accounts at every book. Currently, this works for Moneylines and Spreads.
Last but not least
The inspiration for the latest version of Action Backers has always been the courses and the models.
I have spent a lot of time working on the new Models section (Pro only) and I think you will love it.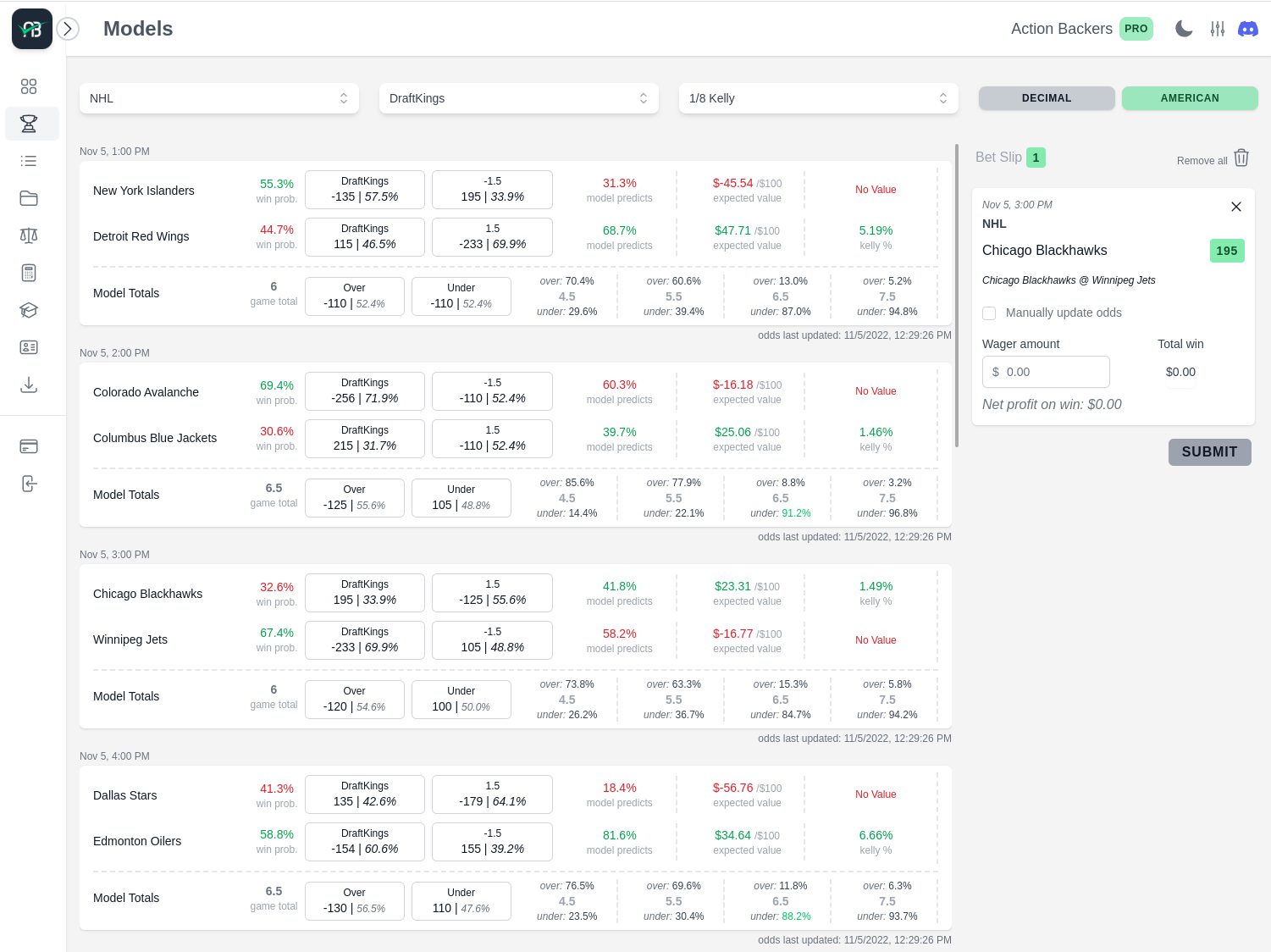 Moneyline
How it works is for a given sport, it will compare the odds at your chosen sportsbook to the model output. From there, it will calculate the expected value per $100 bet as well as the optimal Kelly criterion % to bet. You can easily adjust your Kelly threshold and change sportsbooks to see different options.
If you like a bet, click the button to add it to your betslip and it will be tracked just the same as in the Odds section. We've also included the spread option, should you prefer to bet the spread of a given game.
Totals
Totals work a little bit differently than the moneyline. As any game can theoretically have a different total, the models use common game totals per sport (typically 4-5 different numbers), and then give a percentage change of the game going over or under those totals. Those totals are compared to the game total to see if there is an opportunity for a bet. In this instance, Kelly criterion and EV are not applied as it is not always a 1:1 comparison.
For example, if a game total is 6 and the sportsbook has that at a 54% chance based on the odds on offer, and the model has a 5.5 total at 87% and a 6.5 56%, this should likely be a good bet.
The other big news about models, if you've used Action Backers at all is that no longer do we only offer NHL and MLB. We have expanded to include NHL, MLB, NBA, NCAAB (March madness only for now), and 6 major soccer leagues.
No, we don't have plans to include the NFL. As much as I would love to, I maintain it is too hard to find an edge. The lines are too sharp and the season is too short to glean meaningful edge. Maybe this will change down the road.
Pro members now have the option to download a starter template for NHL and MLB models, and my NHL database with over 20,000 data points. This will get you started on your model building path. I told you I still love a spreadsheet!
Thanks for reading. I am SO excited for this new iteration of Action Backers and I really hope you love it.
Let me know your thoughts on Twitter or join today and hop in the Discord!
👀PS - use code WELCOME20 for $20 off your first month* in addition to your 14-day free trial!👀
*Starter and Pro plans only
✌️- Kellen